WE ARE 'CURRENTLY' OFFERING A LIMITED SERVICE
IMPORTANT!
CORONAVIRUS (COVID-19) - CUSTOMER NOTICE
Our Health & Safety Motto is 'Reduce The Risk' and to enable us to better protect both our Staff and Customers, we are temporarily;
Not asking Customers to sign any paperwork i.e. Invoices, Delivery/Advice/Controlled Waste Transfer Notes, etc *
* Any relevant paperwork will be marked 'NSR' and either be left on the skip, posted through your letterbox or emailed to the Customer.
Requesting that, where at all possible, Customers pay us via Internet Banking, rather than Cash or Cheque.
Requesting that, you advise us beforehand and at any time during the Hire Period, if you or any person within the property/site
has recently or is currently 'Self Isolating' or suffering the symptoms of Coronavirus.
Until the Government instructs us otherwise, we aim to continue to offer a limited service, however, please bear in mind that,
as we are only a small company and due to the specialised Staff Training required in the service we offer,
should any of our Staff have to 'Self Isolate' or suffer the symptoms of Coronavirus, we may unfortunately be unable to offer any
service during this time and as such, any Orders placed, Deliveries and Collections may have to be delayed or cancelled.
<< >>
We thank you for your understanding and support during these difficult and unprecedented times.
Covering the areas of;
Rugby ~ Daventry ~ Woodford Halse ~ Towcester ~ Northampton (West of),
Long Buckby ~ Lutterworth ~ Coventry (South East of)
Southam ~ Welford ~ Market Harborough

Click on 'Our Delivery Area' on the 'Services' tab
for a comprehensive list of the Towns & Villages that we cover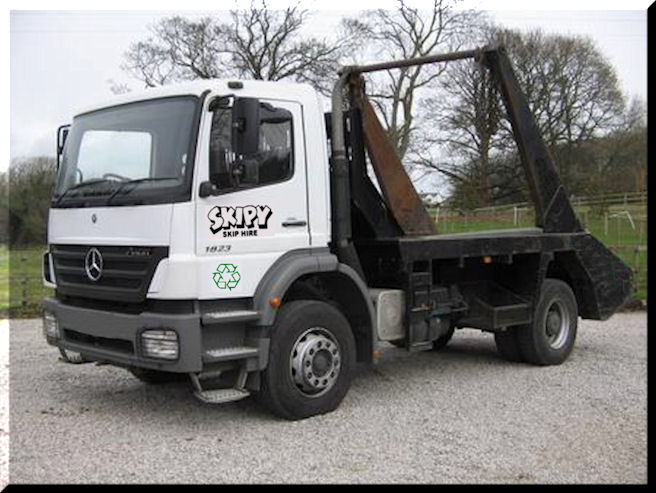 An example of one of our Lorries - 18 tonne Mercedes 1823